OCTOBER half term week is the perfect chance to get on top of the gardening jobs as we tidy up and cut back the plants and give some TLC to our lawns, writes James Iles.
Here's some tasks you can be getting on with as we enjoy the bright and fiery colours autumn paints in the great outdoors.
In the vegetable and fruit garden, finish harvesting your peas and beans and cut the plant at ground level, leaving the roots in the soil. Harvest squashes and pumpkins in time for Halloween but, more importantly, before the frosts turn them into mush.
Protest the heads on autumn cauliflowers by wrapping the outer leaves over them and tying up with some string.
Cut back any remaining fruited canes of raspberries and tie in next year's canes to supporting frameworks.
Move your tender citrus trees indoors to a bright and frost-free location. You can reduce the watering over the winter but don't let them dry out.
After harvesting apples and pears, winter wash the trunks and branches of fruit trees to kill off pests. Pick up any any diseased fruits from the ground and off branches too.
Rambling roses can be tidied up now with a pruning in your flower garden, tying in any stray stems before seasonal winds wreak havoc.
It's a good time to take hardwood cuttings from deciduous shrubs, lift dahlia and begonia tubers and gladioli corms to dry store over the winter, removing any dead foliage before doing so.
Cut back perennial plants that have died down but consider leaving the dead leaves in situ to shelter the wildlife.
Think about replacing spent summer annuals with some autumn/winter bedding plants like pansies, violas, cyclamen and primulas, possibly on top of some spring bulbs – this will see you through until next May in your pots, planters and baskets.
Move any tender plants into your greenhouse now as the threat of frosts increases.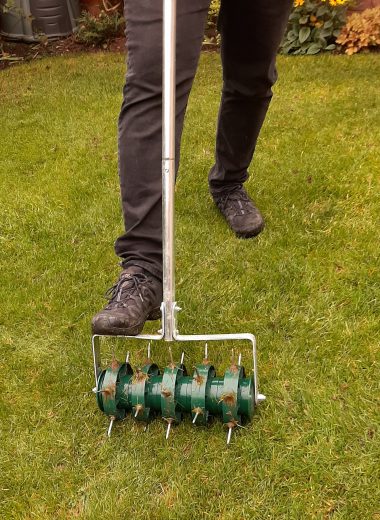 It's important to regularly clear up fallen autumn leaves to allow light and air as we get on with some lawn care.
It might be your last mow of the year (though lawns sometimes will need another mow or two in a milder winter) so raise the blades to avoid scalping your green carpet as it will not have chance to recover fully ahead of the spring.
Edge the lawn if required and aerate the turf with a garden fork or a lawn spiker – this is good exercise too to warm you up on a crisper day.
Remove thatch and repair bald spots and replace turves where necessary.
You might also want to give your lawn an autumn feed (though not on new turf until its established).
Other jobs you could be getting on with are netting ponds to keep falling leaves off, using up spent compost from your containers as a mulch on borders, check stored potatoes and onions for disease, give evergreen hedges one last trim of the year and remember to feed the birds and provide bird baths too – they are your best friend in the garden, helping to keep pests at bay.