A retired military working dog called Kuno has been awarded the animal equivalent of the Victoria Cross after running through gunfire to tackle an Al Qaeda insurgent.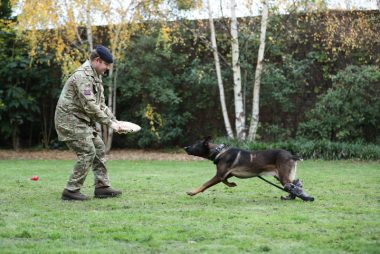 Kuno, a Belgian Shepherd Malinois, received bullets to his back legs during the compound raid in 2019, leaving him in need of several operations and eventually the amputation of part of one paw.
However, the then-four-year-old dog proved to be the difference in the siege, with his intervention credited with turning the tide when the assault force was pinned down under grenade and machine-gun fire.
Despite the pain he later endured, a pair of prosthetic limbs mean Kuno is now able to enjoy retirement.
"I've had the privilege of meeting him on several occasions and every time I see him, you look into his eyes and you can see his intelligence, his determination to please," chief defence veterinary and rehoming officer Colonel Mark Morrison said.
"He's interested in everything and he's just an amazing character. He is both sociable and businesslike… and you don't get that all the time. A really special dog."
The PDSA Dickin Medal is the animal equivalent of the Victoria Cross, and was awarded to Kuno on Tuesday during a virtual presentation.
He joins a select group of 72 animals who have received the honour, including dogs, horses, pigeons and a cat.
"They're really important, in some niche roles they are absolutely central," Colonel Morrison said.
"They provide the ability to detect explosives or other threat substances. In other instances what we value is their ability to protect. Their physical presence is enough in some respects.
"Of course, they're great companions and their loyalty makes all the difference."
---
Kuno's story from the MOD: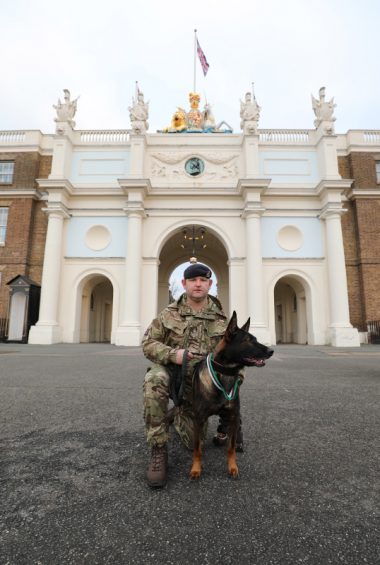 In 2019, Kuno deployed as a Canine Protection and Detection dog in direct support of specialist UK and host nation forces. Operating in mountainous, unforgiving and dangerous areas, Kuno had conducted 16 operations over a five month period. He was a pivotal member of the team and always held on high alert. His role was to detect explosives, find hidden weapons and incapacitate the enemy if so ordered. Where he led, the team were happy to follow, safe in the knowledge that he had cleared the route.
In May 2019, Kuno deployed on an operation. The enemy was expected to be well armed, well prepared and willing to fight to the death. Kuno and his handler were among the first off the helicopter. As they raced across the open ground towards the compound, they immediately came under a burst of machine-gun fire. Miraculously, no one was injured. The assault team entered the compound, where Kuno was released to incapacitate an insurgent. He did so successfully, and then switched focus to detection, soon discovering a variety of hidden weapons and explosives in the compound.
Kuno returned to his handler and the team continued their mission, moving towards another set of buildings. Suddenly, several grenades detonated in close proximity to the team and a burst of machine-gun fire came through a doorway adjacent to the force.
Another enemy insurgent, equipped with Night Vision equipment, had concealed himself in a compound courtyard and was shooting at the assault force as they approached. Pinned down by accurate fire, the assault force was unable to move without sustaining casualties. Kuno's handler, confident in the dog's ability, relied on him to break the deadlock.
Kuno did not hesitate and raced through the doorway to attack the insurgent. Surprised by the speed and aggression of Kuno's assault, the insurgent fired wildly into the darkness at the shape bounding towards him.  Unfortunately, several rounds found their mark, and Kuno received bullet wounds to both hind legs.
Undeterred, and barely breaking stride, Kuno launched himself at the insurgent, biting his arm and wrestling him to the ground. The insurgent was quickly incapacitated, but despite his wounds, Kuno continued to attack to maintain the advantage. Kuno's actions had altered the course of the battle; the assault force swiftly entered the courtyard, neutralised the insurgent and cleared the remainder of the building. Only then did Kuno relent.
Kuno was given immediate first aid, and was evacuated with the assault force, receiving life-saving care on the back of the helicopter. His injuries were severe; one bullet narrowly missed a main artery and he required several lifesaving operations in theatre before he was stable enough to return the UK. Kuno's injuries have proven life-changing and his rear paw could not be saved and was soon amputated. His loyalty, upbeat character and courage were ever-present through a prolonged period of rehabilitation and, despite his injuries, he has recovered well and is in good spirits and health.
Kuno was a most invaluable team member. His instinctive courage and determination unlocked the stalemate and undoubtedly saved the lives of multiple coalition soldiers. The operation resulted in the most significant success against Al Qaeda for several years; Kuno was fundamental in this. His recovery is on-going and he has been retired as a MWD. Kuno's actions during this operation, and throughout his career, are utterly deserving of the PDSA Dickin Medal.
What is the PDSA Dickin Medal?
The world-renowned PDSA Dickin Medal was introduced by PDSA's founder, Maria Dickin CBE, in 1943.
She believed that, if animals were recognised for their heroic actions, it would help to raise their status in society, ensuring they were better treated.
The Medal is the highest award any animal can achieve while serving in military conflict. Kuno has become the 72nd recipient; recipients include 35 dogs, 32 World War II messenger pigeons, four horses and one cat. For more information about the previous recipients visit www.pdsa.org.uk/Medals
PDSA is the UK's veterinary charity, providing free and reduced-cost veterinary care to the pets of people in need. PDSA believes no pet should suffer due to their owner's financial hardship, and as the effects of the Coronavirus pandemic impact the country's economy the charity predicts more people than ever before will turn to them for help.
To find out more about how you can help PDSA care for these vulnerable pets visit www.pdsa.org.uk.
---
Photo credits: UK MOD