After a hugely popular debut last summer, Potfest by the Lake returns to Compton Verney and promises to be another artistic spectacle devoted to feats of clay.
Come and meet over eighty of the UK's leading potters and ceramicists, talk pots and buy directly from the master makers themselves.
Featuring a huge variety of styles – from large scale sculptural pieces to fine jewellery, functional domestic ware to contemporary, decorative pieces – Potfest is your opportunity to acquire a unique work of art.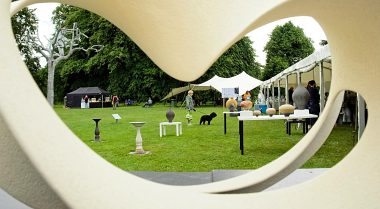 With the historic, Grade 1 listed mansion providing a beautiful backdrop to the stunning displays of beautiful, handmade objects – housed in three large, open-sided marquees on the lawn in front of the lake – the setting could not be more idyllic for the region's most vibrant three-day, artisan ceramics market.
And with over 120-acres of Grade II listed Lancelot 'Capability' Brown landscaped parkland, plus six nationally important art collections and critically-acclaimed exhibitions in the galleries, you can really make a day of it.
---
---
Sure to be of great interest to all fans of ceramics and crafting is Compton Verney's fabulous British Folk Art display, the largest of its kind in the UK. Growing out of the long-established craft traditions in local communities, folk art can encompass objects made for a specific purpose – such as shop signs, agricultural implements and weathervanes – and decorative works created primarily to satisfy the maker. For potters and ceramic artists of all levels of ability and experience, this collection is well worth a visit, not least as a visual delight, but also a rich source of ideas and inspiration.
You're sure to work up an appetite meeting the artists, talking pots and buying directly from the makers, so feel free to pause for a picnic, or take a seat in The Restaurant where, whether you're simply after a tasty snack, sweet treat or a superb lunch, the team will be delighted to welcome and look after you.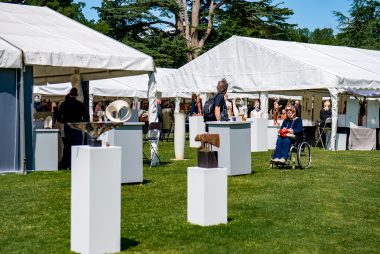 Julie Finch, Compton Verney's Director CEO says:
"After a hugely popular inaugural event in 2021, I'm delighted that Potfest is returning to Compton Verney this summer. Do join us here and be treated to an artistic spectacle."
Tickets for Potfest by the Lake are priced from £10.50 for adults, with under 18s free. Entry for Members is also free. Tickets MUST be booked in advance. The event runs from Friday 17 to Sunday 19 June and is open 10am to 4.30pm each day.
For more information about Potfest by the Lake, current exhibitions, activities and other events, visit www.comptonverney.org.uk 
Photo credits: Compton Verney