A COLOURFUL formation celebrating the Platinum Jubilee will feature in the Red Arrows' new season, which officially began today.
The Royal Air Force Aerobatic Team's latest campaign will be the busiest in four years, with more than 65 exciting displays across the United Kingdom and beyond.
As well as crowd-favourite manoeuvres and innovative shapes, the Red Arrows' new show for 2022 contains a formation to honour the Platinum Jubilee of Her Majesty Queen Elizabeth II.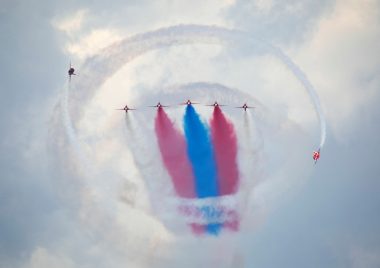 Red Arrows training display over Tanagra Air Base, Greece. Perfoming the Tornado, with Reds 1, 2, 3, 6, 7 and 4 and 5 rolling round. Photographer: Cpl Adam Fletcher – UK MOD © Crown copyright 2022
The official start of the season follows a period of intense training and the successful completion of an annual assessment, known as Public Display Authority (PDA).
The new 20-minute display is created and choreographed by Squadron Leader Tom Bould, who is Red 1 and in his second year as Team Leader.
---
---
He said:
"It is with great pride and privilege the Red Arrows have opportunity to join with countless individuals and communities, across the United Kingdom and further afield, to celebrate Her Majesty's Platinum Jubilee, by performing a display full of creativity and excitement.




"The new show features lots of loops, rolls and shapes with our trademark patriotic red, white and blue trails, marking this important year and the very best of British.

"As a team, the Red Arrows are thrilled to be displaying at a range of events in the UK and overseas – in what has the potential to be the busiest season of shows by the team since before the pandemic.

"We are extremely grateful for the massive support we feel from the millions of people who attend these airshows and events.

"Every member of the team draws huge motivation from seeing these big crowds – we all share the same pleasure and enjoyment of watching the inspiration offered by aviation and teamwork."
In 2022, the Red Arrows are performing aerobatics with a seven-aircraft formation, while the team's major national flypasts, such as those marking official Jubilee events in London, are carried out using nine jets.
The first half of a display consists of synchronised, large shape aerobatics followed by a more dynamic second part, when the team splits up into smaller sections.
Reds 6 and 7, the Synchro Pair, perform the highly-popular opposition manoeuvres during the latter part of the show.
Sqn Ldr Bould – who, like all of the team's pilots, has previously flown frontline RAF aircraft such as the Typhoon operationally – said those at airshows can look out for several fresh additions to the Red Arrows' new display.
He said:
"Our start to the new show in 2022 is the Wall Arrival – one of our widest shapes, spreading out all of the jets and making for a big impact.

"There's also the re-introduction of the Double Goose, which hasn't been flown for several years, where the Synchro Pair fly head-on towards five aircraft, then pull-up through a pyramid shape created by this front section of the formation.

"Other big shapes take inspiration from famous space missions and craft, to acknowledge the launch of UK Space Command.

"As a finale, crowds can expect the Infinity Break – where, as Red 1, I fly an infinity sign through the formation before we all break, at 360 knots and experience a G-force of 6G, to close the show."
Attaining PDA involves detailed scrutiny of activity both in the air and on the ground and is only given when the Red Arrows are deemed to have a show that is safe and visually-appealing.
It follows months of winter training in the UK, at the team's home base of RAF Scampton in Lincolnshire. Preparations then moved abroad, in a deployment called Exercise Springhawk. This five-week period, staged in Croatia and Greece, is where the team perfects and polishes its display and flies up to three-times-a-day – taking full advantage of more guaranteed, finer weather and other settled conditions.
The Red Arrows' opening public display in 2022 is at Meeting Aérien International, in Le Touquet, France.
The team's first UK appearance will be as part of a Platinum Jubilee flypast over Buckingham Place, London, on June 2.
Later that day, the Midlands Air Festival will host the Red Arrows' initial UK public aerobatic show for 2022.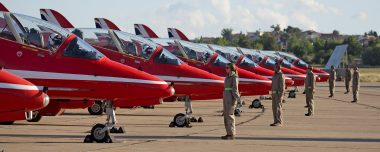 Engineers from the Red Arrows do a formal see off before the jets deploy to a training sortie. Photographer: Cpl Adam Fletcher – UK MOD © Crown copyright 2022
The shows are aimed at inspiring those watching, showcasing the Royal Air Force and representing and promoting a range of UK interests at home and overseas.
This year is the team's 58th season and will be the busiest domestic campaign since 2018, following a reduced number of events due to the pandemic over the last two summers, while 2019 involved a calendar of shows split between the UK and a major tour of North America.
As well as the flying, crowds can enjoy a comprehensive ground and online engagement programme, linking-up with schools, cadet groups and charities to explore themes around leadership, teamwork and the STEM subjects of science, technology, engineering and maths.
Wing Commander David Montenegro, Officer Commanding, Royal Air Force Aerobatic Team, said:
"At home and overseas, the Royal Air Force Aerobatic Team brings people together with a demonstration of precision and professionalism.

"As a team, we were heartened to see groups, especially families, back at airshows and other events, which are incredibly valuable to so many communities and economies.

"These events complement the ever-increasing outreach we deliver via our digital channels and online engagement. Whether live or virtual, our passion and aim remains constant – to inspire."
PDA follows a thorough assessment by a senior RAF officer.
The Royal Air Force's Air Officer Commanding No 1 Group, Air Vice-Marshal Ian Duguid CB OBE MA RAF, examined all aspects of the team, both on the ground and in the air, to ensure the highest safety standards.
Following the approval, the pilots changed from their green coveralls, used during training, into their famous red flying suits, which are worn during display season.
Training for 2022 began last year at RAF Scampton with pilots flying three times a day, five days a week.
Each sortie follows the same two-hour cycle of pre-flight briefing, the flight itself and a thorough, analytical debrief. The aim is constant improvement.
There is a big team effort needed to allow the Red Arrows to perform for the public, from flight operations personnel and engineering technicians to administrators and suppliers.
The support staff, who number more than 100, also changed their coveralls following PDA, into their royal blue flying suits, giving them their collective name – 'the Blues'.
An up-to-date list of airshows and events where the Red Arrows will be performing in 2022 is available on the team's website.
For more information on the Red Arrows, follow @rafredarrows on Twitter, like the team's Facebook page at RAF Red Arrows, view pictures on Instagram @rafredarrows or visit www.raf.mod.uk/reds
For tickets and information on the Midlands Air Festival at Ragley Hall on 2nd – 4th June click here.