With the summer holidays just around the corner, children across the Midlands will be looking forward to the long, sunny days with no school for a whole six weeks.
Parents and care-givers may be forgiven for being a little less hyped, anxiously worrying about how to deliver to exciting days out over the long break.
Well, fret no more. Compton Verney Art Gallery and Park in Warwickshire has your hols covered, with loads of fabulous, family-friendly exhibitions, events and activities.
Set in over 120 acres of Grade II listed parkland, the historic former country house is the perfect place to enjoy fresh air and nature, while also exploring one of the UK's finest treasure troves of art and crafts.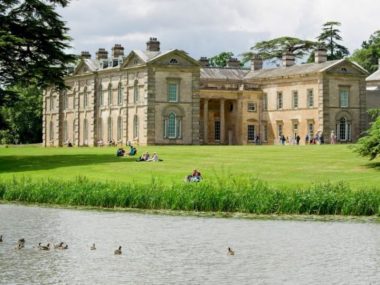 The beautiful Compton Verney. Picture Creative Commons Licence.
For the whole of the six-week break, Compton Verney is hosting its unique Summer of Colour; featuring installations by two of Britain's leading contemporary artists – Morag Myerscough and Luke Jerram – plus a new take on a 1970s immersive and sensory experience that's positively bursting with colour and sound; workshops based around creating sculpture and building wooden structures and the simple pleasure of getting your hands dirty with loads of messy mud.
---
---
In August, there's an evening that literally reveals Compton Verney in a different light, as visitors are invited to enjoy the Warwickshire attraction's many delights After Hours.
In the Old Town Meadow (open until March 2023), contrasting with the lush green of the pasture and (hopefully) bright blue skies are the multi-hued structures of Morag Myerscough's The Village. It is designed to disrupt and draw attention to the landscape, in which the original medieval village of Compton Murdak once stood.
Opening in time for the beginning of the holidays, Luke Jerram's new installation, Crossings, invites groups of up to four people to take a brightly decorated rowing boat out onto Compton Verney's iconic lake and listen to some incredible stories from around the world. As the water laps around you and the oars dip into the water, be transported into the lives and experiences of others from different parts of the world as you take a 30-minute audio journey to another life; another circumstance.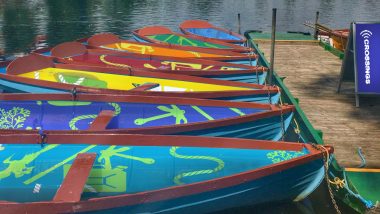 Crossings has been specially created by the internationally-renowned British artist, in collaboration with BBC Radio 4 producer Julian May, and promises to be a truly engaging and immersive way to experience a contemporary artwork.
Make sure you don't miss Colourscape (4 – 7 August), which consists of giant, walk-in structures filled with colourful lights and music. It was originally created in the early 70's by the artist Peter Jones and is being brilliantly recreated at Compton Verney by the Eye Music Trust. Explore Colourscape's many interconnected chambers, while the intensity and subtlety of the colours transport you away to a new reality.
As a brilliant kick-starter for the weekend, After Hours (on Friday 5 August) gives art lovers and families free rein to experience the various installations, while also having the chance to meet Morag Myerscough, as she writes poetry created from Warwickshire Young carers groups onto the inside of her new sculptural commission in the Old Town Meadow.
You can meet Morag and fellow artist David Batchelor, whose incredible retrospective exhibition Colour Is can be seen in the House (until 2 October).
This is the first large-scale survey exhibition of David's work, which spans three decades. Throughout which, he has been preoccupied and fascinated by colour. His work reflects both a delight in the hues of the urban environment, and an inquiry into how we respond to this rapidly changing technological environment.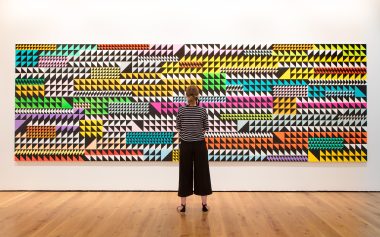 While exploring the main house and galleries, you can also take part in a Silent Disco, with playlists suggested by the Compton Verney team. Celebrating Sanctuary will also be returning, bringing a number of musicians who will be performing live across the site.
At Compton Verney, they think the sign of a great day out is tired, happy kids on the journey home. That's why they have created their weekly Get Mucky, Get Making sessions (every Thursday through the school holidays). Their amazing Learning Leaders and Volunteers will support you and your child to explore lots of different ways to interact with a variety of materials and there will be MUD!
There's plenty of fun to be had making, fiddling, experimenting, feeling, handling and testing, with children given plenty of encouragement to work things out for themselves and develop their confidence, problem solving skills and resilience. These activities are best suited to toddlers and little ones aged up to 5.
They're also delighted to announce that Woodland Tribe are returning to Compton Verney this summer (3 – 14 August, Thursday – Sunday). These guys are the UK's masters of constructive play, in which they help children and adults to get their hands-on real tools, come together and build a large wooden structure on site. It might be a bridge, a tower, or even a castle!
Why not try out the Outdoor Adventure Holiday Club (16-19 August). Your chance to get stuck into an exciting range of activities across the parkland! Have a go at making fire, how to keep it alive and use it to cook; create outdoor artworks, learn to use tools safely to make medals and much more.
Other activities include our brilliant Big Holiday Art Club (23 – 26 August), a whopping four-day extravaganza of making! Inspired by Morag Myerscough's amazing new outdoor artwork in the meadow and David's super sculptural colour exhibition, this club consists of a series of exciting group activities taking place over consecutive days, in which young creatives are welcome to discover a range of new art forms.
Participating youngsters will work with different media and materials to create their own art works. These can be large or tiny, images, sculptures or entire installations. As this is part of our Summer of Colour programme, the key objective is to be imaginative with light and colour. Each day will explore a different material and way of making, with children working together in our studio space to create their own exhibition at the end of the 4 days- which adults, friends and family are invited to.
Alternatively, they're coordinating a series of free, drop-in sessions (between 31 August and 1 September), which offer play-based sculpture activities for all ages. Shape It! invites you to create your very own 3D artwork, using loose parts, materials and fascinating objects from everyday life. Along the way you'll be encouraged to experiment and think outside the box. How big will you make it? How will it stand up? What are the artistic possibilities of discarded paint pot lids, or bits of junked tech?
For more information about Summer of Colour, plus other events, current exhibitions and activities at Compton Verney, click here www.comptonverney.org.uk and for regular updates on social media, follow @ComptonVerney on Twitter and Facebook, plus @Compton_Verney on Instagram.