Local artist Paul O'Donnell has brought together six residents of Cov to tell their stories, supported by an epic score from the region's most established chamber orchestra, Orchestra of the Swan.
Where:  Coventry Cathedral
When: 4 Feb 2022 – 5 Feb 2022
These proud Coventrians, either born in the city or who have made it their home, are teachers, are parents, are quietly changing the world. They are a little part of 'us'. The sort of people who rarely get a live orchestra to sing their praises.
Come and celebrate the funny, surprising and joyful stories that make up our city. Brought together by a full Cov creative team, including Ivor Novello winning Composer Daniel Fardon and ​award-winning Director Tessa Walker.
---
---
Join Nor Aziz, Moz Baker, Duncan Brightside, Sam Collinge, Lynette Coulston, Roze Navab and Paul O'Donnell for this epic and personal classical experience at Coventry Cathedral.
This is a unique theatrical symphony. It is a Symphony of Us.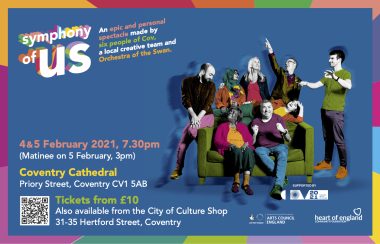 Image by Andrew Moore.