Described as wonderful, dazzling and enchanting, Compton Verney's new visitor experience for 2022 promises to be truly spectacular.
The famous Lancelot 'Capability' Brown landscaped park and woodland of the historic Warwickshire gallery will be transformed by a series of stunning, night-time light installations, creating a magical illuminated trail under the stars.
When: 11 February – 6 March 2022
Where: Compton Verney, Nr. Stratford-upon-Avon, Warwickshire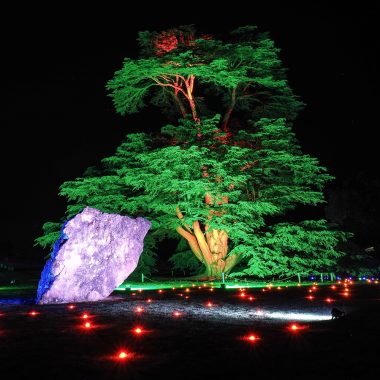 Spectacle of Light invites you to walk through the changing Light Curve, immerse yourself in the Carpet of Colour on the main lawn and be amazed by the sparkling light beams across the lake.
---
---
As dusk gives way to the inky blue of night and stars twinkle brightly in the clear sky overhead, the Spectacle of Light trail will take you on an amazing journey as you wander from the welcome centre, through the woodland, along the lake, and over the bridge to the house, and back again.
The trees will be lit up all the way, with incredible light installations to admire and photograph – it's all about the 'gram, right – before you reach the magnificent, majestic house bathed in gorgeous, soft tones. Music will play at each spectacle, to further create a truly magical experience.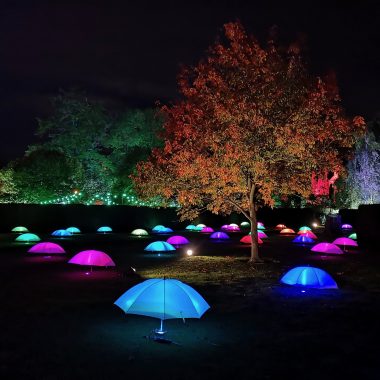 Of course, this being Compton Verney, there are treats in store for your other senses along the way too. Sip delicious mulled wine or hot chocolate as you wander along, before pausing by the house to tuck into scrumptious hot food and mouth-watering treats.
Digbeth Dining Club will be there providing a mouth-watering foodie experience.
To maximise visitor safety and enjoyment of the enchanting experience, a staggered entry system has been created, to create 15-minutes distance between each group of visitors on the Spectacle of Light trail. Entry begins at 5.30pm and the last trail tour commences at 7.45pm, with the park closing at 10pm.
Julie Finch, Director/ CEO of Compton Verney says:
"Compton Verney is the perfect, safe place to meet with family and friends in the fresh air and our new Spectacle of Light is another fantastic, and new, reason for people to come and visit. We can't wait to welcome more people to our grounds to enjoy art and creativity in the great outdoors."
Click here for more details on the Spectacle of Light or for more information about Compton Verney, visit www.comptonverney.org.uk
---
COMPETITION TIME:
For your chance to win a pair of entry tickets please answer the following question and email your answer to [email protected] before midnight on the 9th February 2022:
Question: Lancelot Brown improved the park and gardens at Compton Verney, and designed the chapel and ice-house, for the 14th Lord Willoughby de Broke from 1768. The famous gardener and landscape architect is better known as:
a) Capability Brown
b) Sir Lancelot
c) Monty Don
The winner will receive 2 adult tickets for entry into Spectacle of Light event (worth £44.00). The winner will be notified on February 10th 2022 and will be able to choose the date of their visit.
Terms and Conditions: Tickets cannot be exchanged for cash. Ticket winner(s) must be over the age of 18 – or at least one of them an adult over the age of 18 if accompanying a child.
Photos: Spectacle of Light at Compton Verney near Stratford upon Avon. Copyright: Compton Verney