MOT centres are open and motorists are being encouraged to bring their MOT forward if it's due in September, October or November 2020, to help beat the expected rush for tests.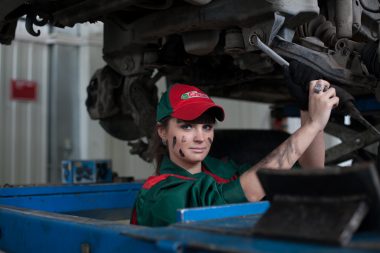 The Driver and Vehicle Standards Agency (DVSA) is encouraging motorists whose MOT is due this autumn to get their vehicle's MOT done as soon as possible to beat the expected rush for tests.
Cars, motorcycles and light vans that were due an MOT between 30 March and 31 July 2020 were given a 6-month extension to help keep motorists moving during the coronavirus pandemic.
Vehicles that were due an MOT from 1 August 2020 will not get an extension and will need to be tested as normal.
Remember you cannot use your vehicle if its MOT runs out. You can be fined up to £1,000 for driving a vehicle without a valid MOT. 
The DVSA is predicting that September, October and November 2020 are likely to be very busy months for MOT centres. This is because vehicles that were given an extension and those that would normally be due their MOT will both need to be tested.
You can check when your vehicle's MOT is due by logging onto: www.gov.uk/check-mot-history and even sign up to get free MOT reminders by email or text message.
Getting your MOT done before it's due will help you beat the rush and keep your vehicle safe to drive.
Chris Price, DVSA Head of MOT Policy says: "MOT exemptions were issued to allow people to continue to use their vehicles for essential travel during the pandemic.
"The MOT is an important test to make sure a vehicle remains safe to drive.
"We know that MOT centres are likely to be very busy this autumn with double the usual demand. We are encouraging motorists to consider bringing their MOT forward to help beat the rush."
Mike Hawes, Chief Executive of the Society for Motor Manufacturers and Traders adds: "Garages are ready to ensure millions of vehicles on UK roads remain safe and provide peace of mind to owners.
"Although the 6-month MOT extension provision ends on 1 August, deferred tests have created increased demand this autumn so owners are strongly encouraged to get their vehicle's test done as soon as possible to avoid disappointment.
"Motorists can be reassured that the sector has full COVID safety measures in place and many workshops are on hand to collect and deliver vehicles for vulnerable customers."
Did you know? 
After the end of the Second World War, the number of dangerous used vehicles on the roads of Britain rose and so the MOT was born.  
MOT stands for Ministry of Transport.
There's a maximum amount MOT test stations can charge. This depends on the type of vehicle. The maximum fee for a car is £54.85 and £29.65 for a standard motorcycle. You do not pay VAT on the fee.
An MOT certificate confirms at the time of the test your car met the minimum road safety and environmental standards required by law. It doesn't mean your car will remain roadworthy for the following 12 months. You still need to make sure you maintain your car well, including regular servicing.
You cannot drive or park your vehicle on the road if the MOT has run out. You can be prosecuted if caught.
An MOT test encompasses a plethora of comprehensive vehicle checks. You can watch the test from a viewing area but you're not allowed to interrupt the tester.
Only DVSA approved MOT testing centres and trained testers can carry out MOT tests.
There are 22,188 active MOT testing centres in the UK.
There are 34.7 million vehicles on Britain's roads.
You must get an MOT for your vehicle by the third anniversary of its registration or by the anniversary of its last MOT, if it's over 3 years old.
Some vehicles need to be tested at one year old such as ambulances, taxis and private buses.