FOR apartment dwellers a balcony can be an amazing refuge and substitute garden for both flowering plants and a range of fruit and vegetables.
The onset of autumn and beginning of winter do not provide an excuse to pack up and go indoors as there is still much work to be done on your balcony.
Chris Collins, Head of Horticulture at national charity Garden Organic and former Head Gardener at Westminster Abbey, lives in central London and his balcony is a year round oasis of colour and tranquillity.
He has five top tips for maintaining it during autumn and winter:-
---
---
Tip one
Now is the time to change over your seasonal planting, get rid of any summer bedding plants and edibles and re-fresh your soil in your baskets and containers.
When removing the old plants knock off the soil back into the container and then top up with fresh peat free organic potting compost and a few organic fertiliser pellets.
The old plants can be put in your appropriate kerbside waste collection or taken to a community composting site if you don't have room for your own compost bin.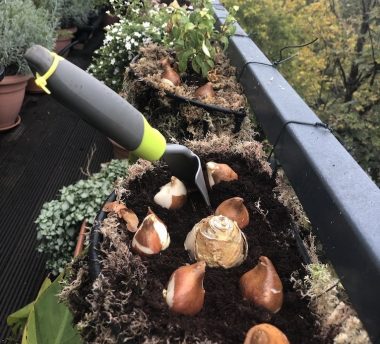 Tip two
One of the most satisfying of balcony projects is the autumn planting of bulbs.
Once they are safely planted you can look forward to four months of flowering from late winter to early summer.
Snowdrops for February, Crocuses and Daffodils for March, Tulips and Daffodils for April and Alliums and Tulips for May and that's just a small sample of the wonderful world of bulbs.
Check out the Organic Gardening catalogue to find your supplies, https://www.organiccatalogue.com.
Colour can be added to cover the top of the bulbs in the form of Pansies, Forget-me-nots, Wallflowers and Primroses.
Some of these will flower through the autumn and winter and then in spring they will flower profusely, and the bulbs explode through.
Tip three
To protect roots from frost and avoid waterlogging prop up your containers on the deck with a couple of house bricks.
Plants still need to be watered over winter but more sparingly.
Regularly check the soil with your fingers as wind can cause drying out.
Remember a good organic peat free compost, that will drain freely and retain nutrients, is the most important investment a container gardener can make.
Tip four
With the dark and cold months looming it is easy to feel that fresh organic food can no longer be grown.
But that is not true and a number of vegetables can be grown including chard, spinach, rocket, salad leaves and oriental mustards.
Chris says: "I like to grow Rainbow Chard in the middle of a container or basket surrounded by Pansies or Primroses. This gives me both colour and edible leaves for the kitchen.
"I also keep a large trough which contains a reservoir in its base.
"This is great for growing food as the soil acts as a wick and pulls up moisture by capillary action, making it less likely to dry out.
"Although plants need less water in winter it is really easy to forget to water them, so I find this a useful tool. In here
"I grow spinach, rocket, salad leaves, and Mizuma, an oriental mustard leaf.
"Being in London I can grow these pretty comfortably in autumn and winter.
"I may lose out a bit when the daylight is at its shortest but until that happens fresh organic salad will continue to grace the kitchen".
Tip Five
Look after your balcony little and often.
Check everything regularly through the autumn and winter, picking out any dead leaves and staking anything that's getting blown around.
And of course, make sure your small feathery visitors have access to plenty of food and water – they will help you keep pests under control come the spring and summer months.
For more tips and advice on growing organic food and flowers visit www.gardenorganic.co.uk.
You can also view Chris explaining his tips on balcony growing on YouTube:-
Part One https://youtu.be/iqQ3TA_6z_E, Part Two https://youtu.be/LU0mhDaUJAk