The RSPB has welcomed a report by the West Midlands Recovery Coordination Group Citizens' Panel that shows support for policies which will benefit the environment in planning the region's recovery from the impact of the Coronavirus crisis.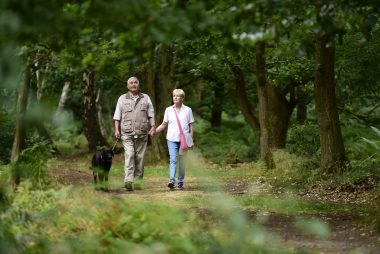 RSPB West Midlands Manager Martin Page said: "We have seen how important spending time outdoors in nature has been for people during the Coronavirus crisis.
"With plans for how we will recover as a region now beginning to take shape, this research comes at an important time to show that people want nature and the environment to be among the top priorities as we look to build back better, healthier and more resilient communities, jobs, businesses and places for people to live, work and thrive."
The report showed people had been spending more time outside on walks or in their gardens, giving them an increased appreciation of the natural world and were supportive of polices that built in consideration of the environment including:
Making as many of the new jobs 'green jobs' as possible.
Encouraging walking and cycling to keep people fitter and healthier, reducing demand on the NHS.
Maintaining green spaces and people's connection to nature to improve wellbeing.
The survey of 500 people in the West Midlands found that 22% of people ranked a 'green recovery' that prioritises the environment among their top three priorities for change in the region following the Coronavirus crisis.
In fact 9% ranked a 'green recovery' as their number one priority, with only better support for the NHS (21%) and 'economic recovery spread around the country, not just in London' (15%) coming out higher.
RSPB West Midlands Manager Martin Page continued: "People's focus right now is understandably going to be on coping with the continuing day-to-day challenges posed by Covid-19 and the impact this is having on all of our lives, not least on our health and jobs.
"I'm encouraged by this report though, and hope that as our businesses and communities recover the West Midlands Combined Authority will seize the opportunity to invest in nature and green jobs, create more and better access to natural green space and protect the environment to build back a West Midlands that is better for everyone."
In June, the RSPB published Recovering Together: A report of public opinion on the role and importance of nature during and in our recovery from the Coronavirus crisis in England. The report shares the results of YouGov research that found people in England overwhelmingly support protecting and investing in nature as part of our recovery from the Coronavirus crisis.
A summary report of the YouGov survey results for the West Midlands has now also been published and is available to read and download here.
The RSPB say they have written to all of England's Combined Authority and City Mayors, including West Midlands Combined Authority's Andy Street, to ask them to prioritise nature and the environment in their Covid recovery plans by:
1.     Increasing the amount and quality of accessible nature-rich green space where people live to help improve health and wellbeing and connect local communities and wildlife to the wider landscape.
2.     Adopting a target to double the area of land for nature through the creation and delivery of a Nature Recovery Strategy that will protect, restore, increase and connect our most precious wild places.
3.     Putting nature and the environment at the heart of infrastructure planning to maximise social, environmental and economic benefits.
4.     Investing in nature-based solutions to help mitigate and adapt to climate change while benefitting biodiversity, society and the economy.
5.     Promoting active travel through investment in green transport infrastructure such as cycle routes and footpaths to make cycling and walking both safe and enjoyable.
TAKE ACTION
According to the RSPB we can all do our bit to help make sure the West Midlands Covid recovery plans benefit nature and the environment. Some of the things they suggest you can do include:
For tips on campaigning and lobbying your MP, and to sign up as an RSPB Campaign Champion visit: www.rspb.org.uk/get-involved/campaigning/