It's one of the most confusing elements of beauty – what exactly should you include in a skincare routine?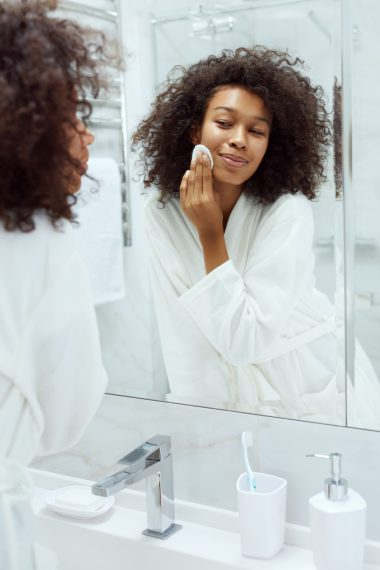 Is the traditional 'cleanse, tone and moisturise' trio sufficient, or should we be following the example of Korean skin-care and completing 10 or 12 steps every night? The truth is probably somewhere in between.
"We have all been guilty one time or another – whether we are rushing about doing errands in the home, sorting the kids out or coming back home late from the office – of not even thinking about paying attention to our skin," says Fatma Gunduz, senior aesthetician at Skin Sanctuary.
If you want your complexion to be at its best, you're going to have to put in a bit of effort – but that doesn't mean you have to spend hours in the bathroom and shell out hundreds of pounds on fancy lotions and potions. By concentrating on the basics and finding the products that work best for your skin, you'll maximise effectiveness and minimise fuss.
Here, our experts explain the five key steps that everyone should include in their evening skincare routine.
1. Cleanser
"The most important step of the night time routine is to ensure you cleanse the skin well," says Dr Ifeoma Ejikeme, general medicine consultant and expert aesthetic physician on behalf of CeraVe. "Dirt, pollution and debris from the day can increase the risk of breakouts, inflammation and irritation."
She recommends those with dry skin use a non-foaming cream or balm cleanser that won't strip the skin of vital oils, while those with oily skin should seek out a targeted product: "A foaming cleanser with salicylic acid may suit you better, to remove dirt and debris and help to reduce breakouts."
If you wear make-up regularly, you might want to do a double cleanse, Gunduz says: "Milky cleansers or cleansing oils dissolve and break down caked-on make-up. This would be the first step to do to make sure the skin is make-up free before you do another cleanse to treat the skin and prepare for further products.
"Always use light to medium pressure and circular movements, working around the nooks and crannies."
2. Toner
There's been some debate as to how necessary toner is in a skincare routine, but Gunduz is firmly in favour of the liquid skin-booster.
"Toners help to remove dead skin cells and anything that your cleanser missed, plus bring it back to a natural, balanced PH level," she says. "They can also help prep and prepare for other products that follow next in your evening routine so they penetrate better without any barriers."
Most toners come as a liquid that you can apply to cotton pads (reusable pads are best for the environment), while others come on pre-soaked pads.
Sweep rather than scrub, Gunduz warns: "Gently wipe in circular movements without any pressure – it's your face not a greasy pot!"
3. Serum
"Everyone has an element to their skin they are trying to address. This could be redness, hyperpigmentation, hydration or improving your skin glow," Dr Ejikeme says, which is where targeted serums come in.
If hydration is your primary concern, focus on "ingredients like hyaluronic acids and ceramides to boost the glow and moisture in the skin," she says, while for hyperpigmentation, antioxidants "such as niacinamide, vitamin C and tyrosinase inhibitors such as arbutin can be helpful to remove pigmentation such as that left behind from spots and sun damage."
If you're worried about redness, Dr Ejikeme recommends "ingredients that soothe the skin such as hyaluronic acid and gentle exfoliators such lactic acid and azaleic acid".
For those wanting to combat the signs of ageing she says: "Retinoids can be an excellent addition to the skincare routine…they can help speed up the skin turnover, revealing plumper looking skin, reducing fine lines as well as hyperpigmentation and spots."
4. Moisturiser
Serums are full of active ingredients but they aren't meant to moisturise so it's important to follow up with night cream after your chosen serum has soaked in.
"No matter what your skin concerns are, this also should be part of your routine – and yes, that means oily skin too," Gunduz says. "Your skin needs an overnight moisturiser to keep the lipid barrier in tip-top form, assist in its restorative and recovery processes, and for optimal skin health."
Hyaluronic acid is a key hydrating ingredient, or you may prefer to use a facial oil during the colder months – but not if you tend to suffer with spots.
Dr Ejikeme says: "If you are acne prone, make sure this final step is an oil-free lotion or non-comedogenic moisturiser," meaning it won't block your pores.
5. Eye cream
Around your eyes is "a delicate area and fragile – the thinnest skin of any area on your face," says Gunduz. "This also happens to be one of the first spots where signs of aging can appear, so it is absolutely necessary to give this skin some extra TLC each night with a restorative eye cream."
It's important not to be too heavy-handed, however.
"For the eyes, really take your time applying products to this area," says Dr Ejikeme. "Pulling and tugging is a no-no. Instead, gently use your ring finger to dab and smooth a small amount of eye cream to the upper and lower lid, keeping about 2mm from the eyelashes."
---
By Katie Wright, PA Fashion and Beauty Editor