A SERIES of webinars will be Warwickshire Fire and Rescue Service's (WFRS) contribution to this year's Warwickshire Pride week, which starts on Monday, August 17.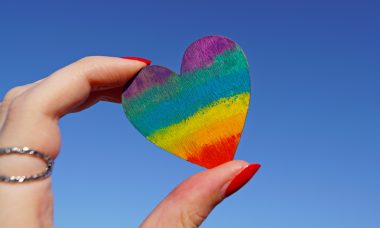 Last year firefighters from WFRS wrapped one of their fire appliances in rainbow colours with the words: 'Fire doesn't discriminate and neither do we' to demonstrate they aim to be a wholly inclusive organisation and to show support for the LGBTQ+ community.
This year, due to the current pandemic, WFRS are celebrating Warwickshire Pride a bit differently, hosting a series of virtual webinars in partnership with colleagues at Gloucestershire, Oxfordshire, Royal Berkshire and Buckinghamshire fire and rescue services.
The webinars will be a chance for the fire services to listen and to understand the communities around them and to have an open conversation on how fire and rescue services can improve for the LGBTQ+ community.
During each webinar, open panel discussions will be held with a variety of guest speakers on the following topics:
Monday, August 17, 6.30pm to 8pm – Positive Action & Inclusion, hosted by Gloucestershire Fire and Rescue Service along with guest speakers Nick Slater (Stonewall), Rachel Burgin (Gloucestershire LGBT Reading Group) and Rachel Salmon (Inclusion Officer, at Derbyshire Fire & Rescue Service).
Wednesday, August 19, 6.30pm to 8pm – Trans Awareness and Trans Acceptance, hosted by Oxfordshire Fire and Rescue Service along with guest speakers Charlotte Stacey (Oxfordshire Fire and Rescue Firefighter case study), Dylan Bettles-Hill (Buckinghamshire Fire and Rescue) and members from Warwickshire Pride.
Friday, August 21, 6.30pm to 8pm – LGBTQ+ Hate Crime, hosted by Warwickshire County Council's Fire and Rescue Service along with guest speakers Alex Gloster (Warwickshire County Council Hate Crime Partnership), Benjamin Smith (Chief Superintendent of Local Policing), Dan Browne (chair at Warwickshire Pride), Junaid Hussain (CEO at Equip) and Ben Donagh (CYP Service Manager at Victim Support).
Talking about the virtual webinars, Chief Fire Officer for Warwickshire County Council's Fire and Rescue Service, Kieran Amos said: "Although we're having to celebrate Pride a bit differently this year, we still wanted to be able to celebrate with the LGBTQ+ community and show our support in promoting equality and diversity within WFRS and across Warwickshire.
"We want to learn from the LGBTQ+ community with the aim of eliminating all discrimination on the grounds of sexual orientation and gender identity.
"Whether you are part of the LGBTQ+ community or you would like to learn more about how you can support, I would like to encourage everyone to sign up to a webinar so that we can all listen and learn together."
The Virtual Pride Webinars are open to everyone and are free to attend. For more details or to register, visit Eventbrite by clicking here.
Once you have registered, you will receive a confirmation email with a link to access the live webinar from your laptop or mobile.