MILKSHAKES FOR THE ALMOST DEAD is the hotly anticipated new book from renowned four-time published women's author, Lulu Wood; the first in the series from the Girls and Monsters Trilogy.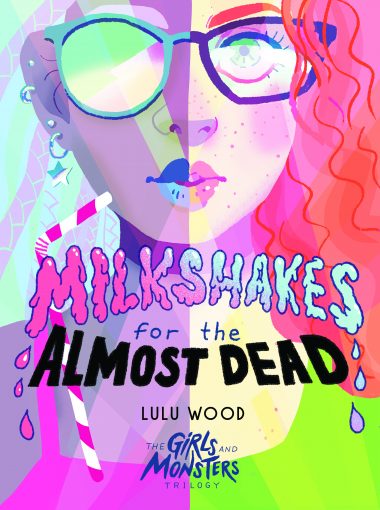 Milkshakes For The Almost Dead is a celebration of the importance of women and teenage girls: what they feel, who they love and how valid their opinions are.
Meet Diana, who makes the best friends she's ever had during the worst summer of her life. From her first love to missing girls, hot boys and psychopaths in cowboy boots, follow Diana's story as she is forced to move to the sleepy seaside town of Lattering with her crazy Aunt Vita.
Diana's Dad has just been arrested and with no friends and two boring jobs, Diana thinks things can't get any worse. Until the morning they find a body on the beach…
An established British author, Lulu Wood made her impact in the publishing industry by dealing with issues such as weight and extreme weight loss (The Perfect Ten), women and ageing (Material Girl), relationships deconstructed (Toasting Eros) and mental health (Boyfriend in a Dress).
For your chance to win a signed copy of her hotly anticipated new Milkshakes for the Almost Dead, send your name and address to BookClub@BullivantMedia.com together with the answer to this question by midnight July 26th 2020:
Milkshakes for the Almost Dead is part of what trilogy?
A)   The Girls and Monsters Trilogy
B)   The Boys and Dragons Trilogy
C)   The Unicorns and Fairies Trilogy
Or to purchase a copy of Milkshakes for the Almost Dead directly from Amazon click here. 
A percentage of the sales from Milkshakes for the Almost Dead will support Plan International UK, which works to advance child rights and equality for girls across the world.
Four-time published women's author Lulu Wood
This prize promotion is open to UK residents (England, Scotland, Wales and Northern Ireland) aged 18 years or over, excluding employees and their immediate families (spouse, parent, child, sibling, grandparent and/or "step" family), of Bullivant Media, associated agents or anyone professionally connected with the prize promotion. Two correct entries will be chosen at random on 27 July 2020 and sent signed copies directly from the promoter. Only one entry per person. All additional entries will be disqualified. All qualifying entries must correctly email the answer to the competition question and include their name and address to Bookclub@BullivantMedia.com by midnight 26 July 2020.