The book Twenty Twenty originally published in 1995 foretells the events of the year 2020 – a virus, people wearing masks and virtual reality.
Twenty Twenty written by the admired author, Nigel Watts is a blueprint for 2020 that was originally published in 1995 by Hodder and Stoughton, which eerily and accurately predicts a global pandemic that occurs in the year 2020 causing the world to communicate largely through virtual technology, with people wearing masks, a drastic reduction of air travel leading to 'virtual tourism,' and nature fighting back for its survival due to mankind's destruction of our planet.
Tragically, Watts took his own life in 1999 and now 25 years later, Watts's widow, former BBC presenter and broadcaster, Sahera Chohan relaunches this timely and relevant book this August; the book's anniversary month.
The book received rave reviews when it launched from The Times, Time Out, Sunday Times and more.
The Times said: "Twenty Twenty is about the end of the world, viral apocalypse, virtual reality…[it] asks the big questions at a time of global destruction and spiritual uncertainty… an intriguing synthesis between ancient mysticism and the brave new world of virtuality. It is a book to make the pulse race, the mind dance and the heart sink."
Twenty Twenty foretells the events of the year 2020, where an ageing writer infected with a deadly virus and despairing of mankind's continuing damage to the planet retreats to a derelict factory in the icy wastes of northern Canada.
Meanwhile, at a remote research institute in the Californian desert, William Morrison, a virtual reality test pilot, and Julia O'Brien, a British anthropologist, are working on a VR simulation of the Amazonian Kogi tribe. William and Julia appear to have little in common, until they discover an uncanny connection that finds them being drawn towards a derelict factory in northern Canada. As the story escalates to its dramatic conclusion, Watts powerfully manipulates the reader's perceptions of reality, whilst blurring the boundary between creator and created.
Sahera Chohan says: "This April 2020, when Covid-19 was at its peak, I pulled out Nigel's novel, Twenty Twenty from the bookshelf and knew immediately that I had to relaunch this powerful book and bring it to a new audience. The story could not be more significant and true.
"Nigel had somehow uncannily predicted our future and now that everyone is spending more time at home, it is the perfect time to read this book – and possibly take a bit of guidance from it and to know how it ends, well you will need to read the book!"
Watts has drawn his name in the sands of time, putting him side-by-side with some of the greatest futuristic authors – Orwell, Huxley and H.G.Wells – securing Twenty Twenty not just as a book of our time, but an enduring and influential novel.
For your chance to win one of three signed copies (signed by the Author's wife – BBC presenter and broadcaster Sahera Chohan), send your name and address to BookClub@BullivantMedia.com together with the answer to this question by midnight August 30th 2020:
The highly acclaimed fiction book that anticipated our future: Twenty Twenty was originally published in:
A)   1995
B)   2005
C)   2015
Or to purchase a copy of Twenty Twenty from Amazon click here.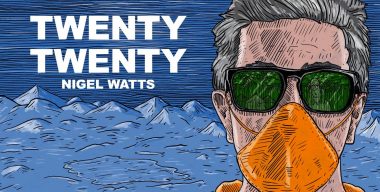 This prize promotion is open to UK residents (England, Scotland, Wales and Northern Ireland) aged 18 years or over, excluding employees and their immediate families (spouse, parent, child, sibling, grandparent and/or "step" family), of Bullivant Media, associated agents or anyone professionally connected with the prize promotion. Three correct entries will be chosen at random on 31st August 2020 and sent signed copies directly from the promoter. Only one entry per person. All additional entries will be disqualified. All qualifying entries must correctly email the answer to the competition question and include their name and address to Bookclub@BullivantMedia.com by midnight 30th August 2020.
Author Photograph (1995) taken by Sean Pollock.