Alvechurch 1 Leamington 3
Pre Season Friendly at Lye Meadow
Saturday 29th August 2020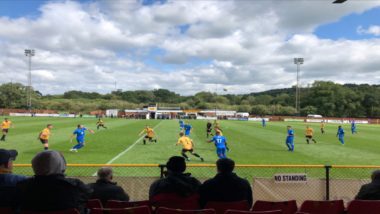 Brakes made the short hop into Worcestershire to take on Alvechurch and came away from a well contested encounter with another victory which was sadly marred by a first half injury to striker Lance Smith which necessitated a visit to hospital.
The first five minutes were certainly feisty, the Referee's whistle constantly punctuating play as overeager challenges were made by both sets of players. It was clear that both sides were up for this contest and it was Brakes who drew first blood with 12 minutes gone.
Winning the ball back following a throw from Steph Morley Jack Edwards played Joe Parker in behind the 'Church defence and the midfielder finished low past Shaun Rowley.
Alvechurch pushed forward straight from the restart and were level immediately, Joe Hull rising unmarked from a left wing corner to plant a firm header into the bottom corner past a flat footed Jake Weaver.
There were some slightly over zealous challenges being made which were going unpunished by the match officials, and Lance Smith was forced off with a painful looking shoulder injury after landing awkwardly. Paul Holleran's concern was such that he made his way to the centre circle to check on the condition of his stricken centre forward, and would not have been happy to see him leave the pitch injured.
There had been no efforts on goal for either side since the Alvechurch leveller but after the unscheduled break Morley's free kick into the box was guided into the path of Edwards, whose low deflected strike was held at his near post by Rowley.
Morrison did well to direct Morley's left wing centre towards goal but was far enough out to be unable to get enough power on his header to trouble the goalkeeper.
Danny Waldron directed another ball from the left back into the path of substitute Kaiman Anderson, whose attempted strike deflected into the arms of Rowley.
Alvechurch were getting a lot of space down the right but were unable to capitalise, and Leamington scored a superb second moments before half time. Weaver's goal kick was nodded down under pressure by Edwards into the path of Joe Clarke, who delivered it towards the penalty area and into the path of Waldron, who showed superb composure to lift a delightful first time effort over the advancing Rowley into the net.
The second half began in an open fashion, half time substitute Callum Gittings lacing in a drive which was deflected behind. The hosts attempted to attack at pace but were crowded out by a resilient Leamington defence, who were certainly being made to work hard to maintain their lead.
Parker did well to battle and regain possession after a loose pass, robbing his man on the left and curling in a shot that was held by Rowley.
Dan Meredith, employed for most of the game in a more defensive role than in Tuesday evening's match against Walsall, pushed forward to unleash a low drive that bounced wide. Pushed forward into a more familiar midfield role after more substitutions were made, Meredith was a little more off beam with his next effort, which sailed high over the bar.
With a little over fifteen minutes to play Leamington added a battling third goal. The three substitutes Gittings, Anderson and Junior English were all involved and showed great perseverance Anderson first robbing the ball from keeper Rowley before laying it back for English playing in the strikers role as he has on occasions in the past, to arrow a low drive past the diving goalkeeper inside the near post.
An Alvechurch substitute powered a header well over the bar, and with a two goal cushion Brakes looked comfortable in the closing stages against a side who, for all their endeavour and enterprising play, seemed to run out of ideas at times in the final third, and Leamington eased to a third win out of four in their warm up fixtures.
Attendance: 152
Alvechurch: Shaun Rowley, Ben Cassidy, Jamie Willets, Joe Hull, Bobby Sauno?, Pete Taylor, Dave Bellis, Mitch Botfield, Kevin Monteiro, Kieran Clarke, Jake Wakeling.
Substitutes: Unknown. Former Brakes man Kyle McFarlance was one.
Leamington: Jake Weaver (13 Josh Allen, 89), Dan Meredith, Stephan Morley, Joe Clarke (18 Josh Martin 62), Kyle Morrison, Jack Lane, Joe Parker (17 Kieran Dunbar, 56), Simeon Maye (16 Connor Taylor 80), Lance Smith (15 Kaiman Anderson, 23), Jack Edwards (14 Callum Gittings, 46), Danny Waldron (12 Junior English, 62).
Photo credit: Leamington FC