Over 100 Scarecrows appeared in the front gardens of houses on Woodloes Park Estate in Warwick over Bank Holiday Weekend.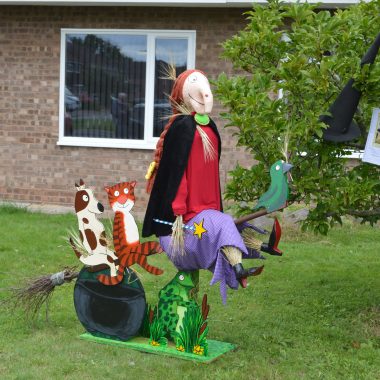 The brainchild of a local resident, Lisa, the event was organised by a group of three, who came together on Facebook back in June.
Various community initiatives have taken place on the estate during lockdown, including socially- distanced street parties for VE Day, the NHS 75th Birthday and a Door-Step Café, all starting from the ten weeks of "Clap for Carers."
With funding from SingWell Community Choir and Woodloes Community Centre, the organisers published and printed a promotional leaflet before the school summer holiday, which was delivered to every house on the estate.
Local artist and children's author and publisher, Samuel Langley-Swain supplied the art work – built around a photo of one of the streets on the estate – featuring a traditional Scarecrow.
Residents were able to register their interest in building a Scarecrow via a dedicated Facebook Page "Woodloes Scarecrow Festival," and a massive 104 families took up the challenge.
In the week prior to the Bank Holiday Weekend, every exhibitor was hand-delivered a laminated poster to display alongside their Scarecrow, to encourage visitors to donate dried or tinned foods, or cash to Warwick Food Bank, via a collection point at the Woodloes Tavern. Donations have been coming in over the last few days, including a very generous van-load of goods from Morrison's Supermarket on Myton Road.
On Sunday afternoon, the Mayor of Warwick, Coun. Terry Morris and his consort, Elizabeth Morris, attended the Festival, with a reception at The Woodloes Tavern, hosted by Landlord, Martin Goode, to meet the Festival organisers, Lisa, Katie and Trevor, and representatives from Woodloes Community Centre, SingWell Community Choir, Warwick Food Bank Trustees, and the Festival artist.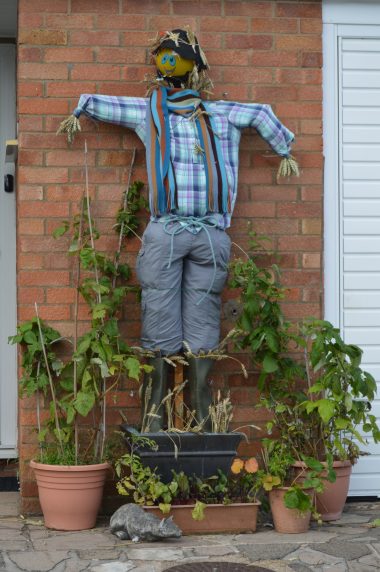 The group then undertook a 90-minute walking tour of the estate, taking in as many exhibits as possible, meeting the families who had produced the stunning Scarecrows.
All weekend, families across all generations, were out on the streets, following the Festival Map and Street Guide, stopping to chat with friends and family and exhibitors, walking, cycling or driving around the estate.
Organisers said: "It is hard to think of a time when so many people were out on the streets, exchanging their thoughts on their favourites, and which were the must-see Scarecrows – all within the Covid 19 guidelines."
For this first-ever Scarecrow Festival, the organisers decided not to run it as a competition, since anyone who took part was a winner. They also tested opinion on whether to have a theme and it was agreed that "free-style" would produce the widest range of artistic sculptures. Consequently, Scarecrows ranged from Scouting to Bhangra Dancing, A Scarecrow Wedding to a Cowboy, Mr Potato Head to a Workman down a manhole, traditional Scarecrows to Speed Cops, and Scarecrows made by children and grandparents based on TV or film characters.
Plans are already afoot for a follow-up Festival, with even more local residents keen to take part, now they know what interest has been created, with literally hundreds of visitors taking photos and stopping to chat and admire the creations.
The same organising trio are now looking at a special Community Event this winter, which they hope the whole estate will take part in. More details to follow, but the Community Spirit which has been shown throughout recent weeks is something to be treasured and built on.
The organisers want to thank everyone who took part and to all who have so generously supported Warwick Food Bank. A great first Woodloes Scarecrow Festival, which can only grow and develop in the future.
To get involved go to: "Woodloes Scarecrow Festival" FaceBook Page.