Seven contemporary ceramic artists from the across the Midlands have been invited to respond to Leamington Spa Art Gallery & Museum's diverse collection of ceramics and you have until 14 September to see their work.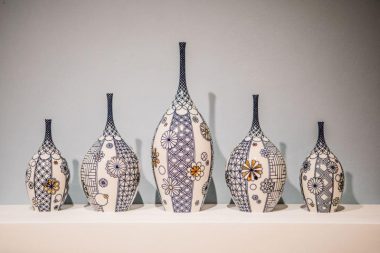 Rupert Brakspear, Dylan Bowen, Rhian Malin, Michelle Taylor, Rose Wallace, John Wheeldon and Jon Williams will show their work alongside some of the historical objects which inspired them, from Roman kitchenware to Regency tea-sets.
The artists all draw on ceramic traditions in their work, and their selections showcase some fascinating artwork – and history lessons – in this diverse collection.
For example, Rupert Brakspear has taken inspiration from ancient Roman pottery and also from Warwickshire's landscapes and geology. In contrast, Dylan Bowen's slipware draws on the robust forms and luscious glazes of vernacular English pottery and Rose Wallace uses Staffordshire tortoiseshell wares and figurines to illuminate the social and medical history of the Royal Pump Rooms.
Michelle Taylor reflects on themes of damage and repair, both physical and emotional, through intricate recreations of traditional blue and white decoration while Jon Williams invites us to make music using vessels and water, as people did in pre-Columbian Peru.
John Wheeldon's work responds to the lively painted surfaces of Delft pottery and Rhian Malin explores the formal elegance of porcelain, its journeys from Asia to Europe and its meanings in the domestic interior.
Through all these artworks, Making Histories aims to shed new light on the collection, and to show how the history of ceramics continues to inform contemporary practice of the highest quality.
To book your tickets call Leamington Spa Art Gallery & Museum on 01926 742700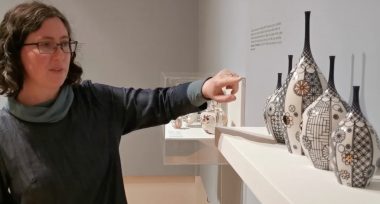 Curator Lily Crowther