AS schools begin to reopen in Leamington, Morrisons has extended the support it is already giving to many sectors of society by asking shoppers to donate unwanted school uniforms for struggling families.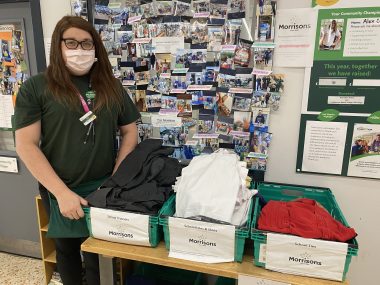 A school uniform collection point has been set up at the store, in Old Warwick Road, and those who do not have unwanted uniform items can also participate by purchasing from a trolley of new uniforms near the checkouts, then donating.
"During covid/lockdown we have been working with nursing homes, police/ambulance and fire stations, food banks and any orgnisations identified as being in need of support," said Morrisons Community Champion for Leamington, Alex Pearson.
"We have also helped many families by making food bags of staple food and hygiene items.
"We have become aware through our involvement with the community that many families are struggling due to loss of income because of the coronavirus and there may not be enough money for school uniforms which could lead to children being kept at home. This is why we have set up the donation point by our community room in store.
"We are looking for items from blazers to shirts, trousers and school ties for all ages from reception to year 11. These will then be sent to the schools to give to those in need."
Morrisons in Leamington is also collecting stationary for pupils where schools were unable to order enough supplies while closed due to the coronavirus.
"We really are trying to do everything we can to help the community that supports us," said Alex, speaking during a 12-mile walk in the Cotswolds to raise money for children's cancer charity CLIC Sargent.
Four staff members, two children and two dogs smashed their initial target of £200 by raising £300 before starting on their walk on Wednesday morning.
"There is a collection bucket and a QR code for people to donate in store if they wish – we're all just really glad we didn't plan the walk for Tuesday!" said Alex.
To see more about what Morrisons Leamington is doing to help, visiting their Facebook page by clicking here or email: champion.leamingtonspa@morrisonsplc.co.uk
A stand of priced-up new uniforms is available for shoppers to purchase and donate: